We are the manufacturer of GA2000 polyurethane spray foam machine.
We handle specifically the following product line.
GA2000 machine, a Plural Component Proportioner, is widely used in various spraying and coating applications like polyurethane foam spray, two-component coating of paint and two-component epoxy resin. It can also be used for a special 2-component Polyurea coating at 2000 psi maximum working pressure.
Benefits of GA 2000:

simple to operate, reliable and easy to maintain.
allow even spraying of foam
higher output which results to cost savings in the long run
Technical Data

-Air Motor: 20:1 Air Motor

-Air Requirement: 13.6scfm@100psi, 7 bars 40 cycles/min

-Electrical: 40 amps@220V single phase AC, 50/60Hz or 25 amps@ 3 phase 380V, 50Hz/60Hz

-Maximum Output: 8 litres/min (60 cycles/min)

-Maximum Working Pressure: 2000 psi (138 bar)

-Actual Dimension: 104 cm (H) X 66 cm (W) X 90 cm (L)

-Weight: 150 KG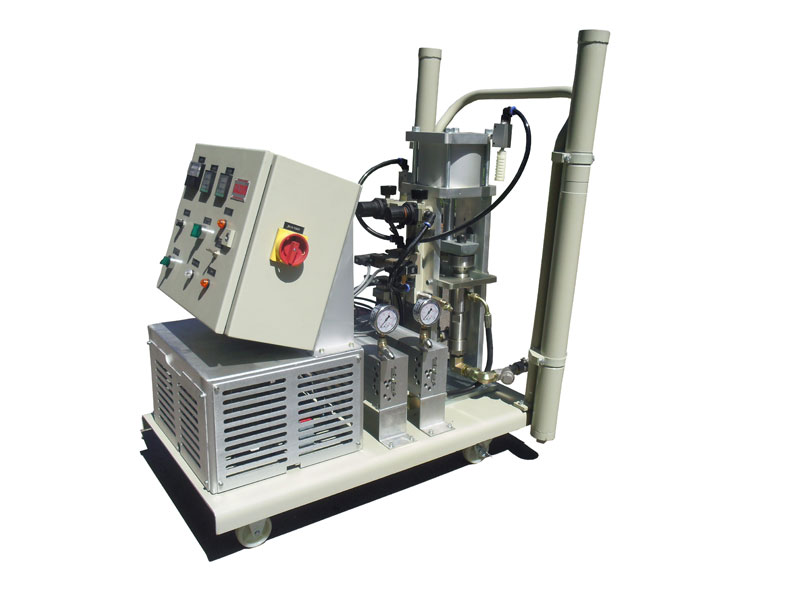 What is in a GA2000?
Air Driven Motor: Double-acting cylinder, through self-actuating control, the reciprocating action will supply gas at both end strokes to drive the metering pump. Rated pressure range from 50~100psi (3.5 ~7 bar). Hydraulic pressure and 20:1 ratio.
Quick Exhaust Valve: Specifically designed to speed up the exhaust valve cylinder reverse cycle, achieving pressure stability.
Metering Pump: Equipped with fixed ratio, positive displacement, double acting piston pumps. Teflon packings are combined with hard chrome plated piston rods and cylinder walls to provide the most reliable pumping system available. An internal piston packing set has a self-adjusting take up.
Pump Retract: Automatically position the pump shaft within the cylinder to prevent contamination from moisture and provide longer pump packing life.
In-Line Filter Screens: Protects valve balls and gun components from fouling due to unwanted dirt and particles in the system.
Primary Heater: Controls material viscosities and process temperatures.
Digital Temperature Display: Digital readout of the hose heat temperature provides the operator with a simplified, convenient method of viewing operating parameters on the jobsite.
Heated Hose: Proven safe and reliable Hose Heating System.
Hose Power Pack: Provides operating power to hose heating system. Isolation design separates the low voltage systems for operator protection.
Spray Guns: A wide variety selection of spray guns for pouring or spray to meet your production requirements.
Cart Handle: Store the transfer pumps on the two-sides, put in DOP to preserve pumps and prevent cavitations when system not in use.
Applications